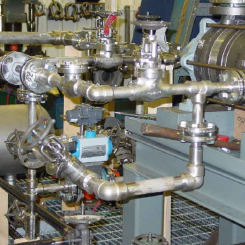 Piping Design
Sidock Group's engineering team provides clients with technical expertise in the engineering design and construction of mechanical piping and equipment for industrial, commercial, healthcare, education, municipal, and many other market sectors. Our success starts with our dedicated, engineering team that understands how critical it is to provide designs that meet or exceed the needs of our clients.  At Sidock Group, every detail is scrutinized through our internal, quality control program to ensure our clients receive the designs that are best suited for their facilities.
• Pipe Stress Analysis
• Piping Supports
• Pipe Expansion Joint
• Fuel Gas Piping
• Condensate Piping
• Pipe Corrosion Mitigation
• Pipe Failure Analysis
• Hydraulic Modeling
• Fire Protection Systems
• Domestic Water Systems
• Process Water Systems
• Storm Systems
• Domestic Sanitary Waste Systems
• Waste Water Treatment Systems
• Chilled Water Systems
• Steam, Natural Gas, Chemical
• Tank Farms
• Bulk Tank Loading and Unloading Stations
• 3D Modeling
• Boiler Systems Compressed Air Systems
• Hydronic Systems
• Geo-Thermal Systems
• Pipe Support Systems
• Valve Engineering
• Heat Trace Systems
Advanced Tools We Use:
3D Scanning to accurately and safely capture the existing piping and equipment along with the surrounding environment.
Extraction of piping and structural components from 3D scan into a 3D model using intelligent scan data recognition software with component build libraries.
3D Modeling software in conjunction with piping component libraries to route piping in a manner to provide ergonomic designs.
Analyzations and Calculations We Perform:
Pipe Stress Analysis
Interference Analysis
Process Calculations
Regulatory Code Calculations
Pipe Support Design and Analysis
Deliverables We Provide:
2D Drawings – General Arrangement, Plans, Elevations and Sections
Piping Isometric Drawings with Bill of Materials
Piping Material & Component Specifications
Detailed Bill of Materials
Fabrication Detail Spool Sheets
3D Renderings and Images
3D Walk Through Animations
Piping Reports – Parts Lists, Valve Lists, Line Lists
Equipment Specifications and Bid Documents (Pumps, tanks, vessels, etc.)
Additional Services We Provide:
Instrumentation Selection and Specification
Construction Management and Supervision
Field Engineering Support
Problem Solving Evaluations and Studies
Thermal Insulation Specification
As-Built Surveys, Walk Downs and Drawings
API 570 Piping Inspection Services
• Light Industrial
• Heavy Industrial
• Manufacturing
• Power Plant
• Refinery
• Chemical
• Steel Mill
• Storage and Warehousing
• Office
• Healthcare
• K-12 Education
• Higher Education
• Religious
• Multi-Family Residential
• Single Family Residential
• Hospitality
• Commercial/Retail
• Municipal/Governmental
• Police Station
• Fire Station
• DPW
• Court
• City Hall
• Library
• Civic & Cultural